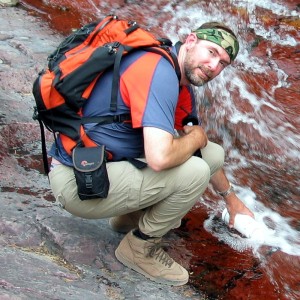 As many geocachers may recall, the worlds previously oldest unfound geocache GCDFB "4.5lb Walleye" placed in 2001 was found 12 years later in June 2013 to wide acclaim.
At the time of this posting, Saskatchewan is now the location of Canada's oldest unfound geocache listing: GC989E "SK Extreme 01" – a Virtual Cache 416 kilometres North of the Living Skies 2014 Mega Event location. Placed in July 2002, this will also mark 12 years since the cache listing was created.
We took a few minutes to interview the cache owner – KenJamin
Q: KenJamin – to set the scene why don't you tell us a bit about yourself.  What got you caching and how did you come up with your caching name?
I came across a geocache by accident while surfing the internet on GPS technology.  My caching name came from a co-worker who called me KenJamin, not sure why, and when I needed a caching name, I thought of it.
Q: What geocache did you come across that sparked your interest?
It was Sask-cache-one, Saskatchewan's oldest geocache – located just NW of Saskatoon.  I also got the FTF on it as well.  Just as a side note, I was also part of the group that found it on the 10th anniversary of its hide in 2011 and was the one to find it that day as well.
Q: What enticed you to hide your SK Extreme 01 cache?
Well, I noticed that in the USA they had benchmarks that you can find on the website, but not in Canada.  When I came across the benchmark on the island I was staying on while canoeing, I thought it would be an interesting virtual cache.  At the time it was also the most northerly cache in Saskatchewan.  For a long time it was.
Q:  What type of GPS were you using and what was your occupation at the time?
It was a Magellan ColorTrak.  The great thing about this GPS was it displayed two coordinate systems each with their own datum at the same time.  One was set to UTM NAD27Can for use with the paper topo map and the other was Lat/Long WGS84. At the time, GPS units did not display maps at all.
I was a guide with Explore the West Tours who conducted canoe trips for Rotary International Youth. The route we were doing was Saskatchewan Canoe Trip 33 – Brabant Lake to McLennan Lake – 91 km long.
Q: Why do you think it has now become the oldest unfound cache in Canada?
First of all it is in a remote location, therefore the name of the series.  Unless one is going hunting, or on a canoe trip or for work, there is no reason for going up there, even the closest large city is approx 600 km away.
| | |
| --- | --- |
| Using paddle as serving tray. Explore the West Tours owner Richard Taylor receiving. | Portaging a Canoe |
Q: I have heard of some controversy associated with this cache.  Can you tell us about it?
Well….. A couple of years back, a trend emerged where some geocachers were logging geocaches virtually, ie logging them without actually visiting them.  A cacher logged SK Extreme 01 virtually which sparked outrage among some local Saskatchewan cachers.  Many logs were altered and recanted.  I launched my own investigation about logging virtually and as a result, I deleted that cacher's log and altered the requirements for logging that cache.  The details and the rational appear on the cache page.
Q:  Are the other caches within this series still active?
SK Extreme 02 is still active but has had no successful visits this year as of the date of this interview.  Anyone coming from the States can easily drive past it on their way up to Living Skies 2014. (and grab an earthcache at the same time) SK Extreme 03 had to be archived by request of the lease holder of the property one had to cross to get to the cache.
Q:  Do you think SK Extreme 01 will be found during Living Skies 2014?
That is a good question because I have thought about it.  I hope so and there are lots of local cachers saying that they are planning to make the trip up but saying it and doing it are two completely different things.  It is a long drive followed by a 5km canoe paddle to get to the island that it is on.
| | |
| --- | --- |
| Looking roughly east from near the cache | SPOILER: pile of rocks at the benchmark location |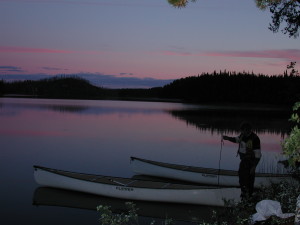 Bringing canoes in for the night
Have a comment or question about this cache or others mentioned in the interview? Visit our Facebook page! In the mean time, take a look at KenJamin's Cache Listing:
Map showing location of the Living Skies Mega Event in Rosthern (A) and SK Extreme 01 (B):

View Larger Map