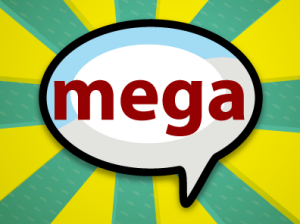 This just in from Geocaching HQ: We are excited and thrilled to announce that Living Skies 2014 has officially achieved "Mega Event" status!
As an attendee you can look forward to a number of additional perks, including the coveted Mega Event icon, a unique new souvenir for your geocaching.com profile, "Lab Caches" (a new and rare type of cache available that will only be available at the Mega Event), and permission to exhibit the films from GIFF – the "Geocaching International Film Festival". Of couse, there also swag and prizes coming in from Geocaching HQ too!
A big thank you to Geocaching HQ, the Living Skies 2014 Event Planning and Organizing Committee, and of course all of the geocachers out there excited and spreading the word about this Saskatchewan event of the year for getting us to this point.  This makes planning all the more exciting, so stay tuned for more Mega news and local features!
For those not totally familiar with what a Geocaching "Mega Event" is, it is at its heart a geocaching event like others listed on geocaching.com that are open to any geocachers to attend, except those classified as a 'mega event' are rare because "Mega" designation means 500+ attendees. It is the ultimate event to attend for a geocacher because of the number of people coming from out of town, and the variety of activities planned.
Even though the main event is only 1 day on July 19th, we have 4 days of fun planned. This is where 'satellite events' come in. These are other events hosted in the nearby area on the days of and surrounding the event for other activities such as museum and heritage site tours, canoeing, hiking, breakfast, etc. This means lots of additional opportunity to have fun with geocaching friends and a reason to spend a little extra time in the area.
Of course, all the new caches we have planned in the area will keep most people having a great time geocaching over the days of, leading up to, and after the event as well. We also plan on having seminars including a 'geocaching 101' that will be good for new or non-geocachers.
This will be Saskatchewan's first Mega event, so the veteran cachers of the area are excited to show off what our province offers to other geocachers as a destination.