Saskatoon's seventh annual Cache and Release will commence this Friday, when many hundreds of new geocaches will published, expected to be in the many hundreds. Caches will be anywhere up to 130KM from the centre of Saskatoon. For those attending the Living Skies 2014 MEGA, this means more caches for you to find when in the area as well!
The caches will be published on Thursday, but those participating should hold their horses and plan their strategies before the official start time of Friday at 5:30PM, and then its pure caching mayhem for 24 hours!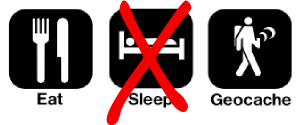 There are a series of connected events to allow people to meet up, team up, and gang up on their caching adventures, which in the past has had numerous parties caching all through night.
The official "Gathering" will be 6:00pm Saturday June 21st at the Floral School just outside of Saskatoon where stats will be calculated and awards will be announced, and burgers, hotdogs & condiments provided by SAGA. The newly reminted "Saskatchewan Geocoin will also be available for purchase as well Saskatoon's Own We R Bad geocache store will be available to supply you with great deals on all your caching supplies.
Below are some of the related events. Full details covered in the SCAR 2014 Brochure, and be sure to check out the SAGA table at Living Skies 2014!
Post SCAR 2014 Update: The official cache count was 427 caches! If you are in the Saskatoon area on your visit to the area for the MEGA, there's just a few new caches to find 😉
Map of the new caches: