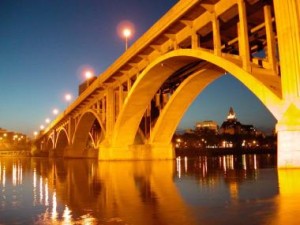 With seven bridge spans across the South Saskatchewan River, Saskatoon has been referred to by some as the Paris of the Prairies.
Certainly, at night, with the glowing lights on the bridges and the Delta Bessborough hotel, this reference can be understood.
Saskatoon is the largest city in Saskatchewan, and is home to the highest cache density in the province.  Within 20 km of city hall, there are 1632 geocaches at the time of this post.  This is 24 percent of the total caches in Saskatchewan!
Of course, this percentage will reduce once we've hidden all the caches for Living Skies!
Each year, S.C.A.R. (Saskatoon Cache and Release) is responsible for placing hundreds of caches in and around the city.  In 2012, S.C.A.R. resulted in an astonishing 512 new caches, and, in 2013, 257 new caches.  This event is happening again this year in June, so be on the lookout for lots of new caches!