This just in from Dragonfly E&N: Greetings Racers…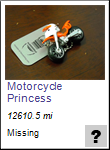 I have recently updated the stats from our big race.  It's been a few months since the last update so thank you so much for your patience. Some of the racers are putting on a lot of miles, many have stalled completely and unfortunately there are a few that have gone MIA.  Similar to the Regina racers; many seem to be putting on good miles but not collecting points as they are just visiting caches, not being placed and retrieved.
Check out the scores: So far Geobugs5's  Motorcycle Princess has travelled the farthest with 20267 km but bertnabear's Jayme's dream car leads the scoring with 710 points.  Jayme's dream car  is presently visiting Portugal where the weather is slightly warmer than here.  Motorcycle Princess has already been to Europe and back again and is currently in the State of Washington.
Follow this link for the detailed update on all the TB's in Saskatoon's Race Details Google Doc, or the Living Skies 2014 TB Race Page!
We will be updating again soon….Good Luck & Stay Tuned! – Dragonfly E&N