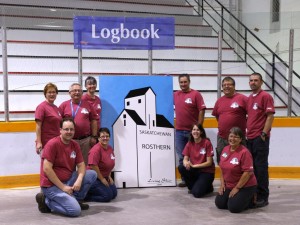 The crowds were building outside this morning as the Event Planning & Organizing Committee was busily running around getting all the last minute items setup and ready for the opening at 10:00am, we took a minute for a group photo before we signed the log, and opened the doors! (Big thanks to Geoclansman of Regina for creating and donating the beautiful log board!!)
A monumental photo since most of the planning and meetings were actually done via electronic means, and given the geographic spread of the organizers in Prince Albert, Saskatoon, Regina, and Calgary meetings in person with everyone in the same room were difficult to achieve!
We hope you thoroughly enjoy your visit today, and check out the awesome retailers, exhibitors and displays!