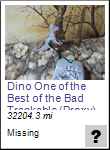 This just in from Navyguider: Good day fellow racers!
I have just done an update on the race. Some racers are going at a good pace, others have stalled while 4 unfortunately have gone missing. Many are putting on good miles but not collecting points as they are just visiting caches, not being placed and retrieved. Oh well, that is how the game goes. We have a couple of TB's overseas, they are really touring around.
Check out the scores. So far Trillium03's "Dino One of the Best of the Bad" has travelled the farthest and also has high score. He is presently visiting in Germany – lucky guy.
View more statistics of our race on the TB Race Page!