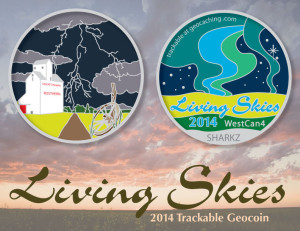 Wow, it's already May! Working with our sponsor Landsharkz, we have finalized the designs of the official event geocoins, so we thought we'd share a sneak peek at the "Regular Edition" Living Skies 2014 geocoin art. The pre-registration edition will have alternate colourways.
We will also have a special edition of the geocoin for volunteers and those who complete a new "Adventure Trail" we have planned in the south of the province.
Remember, if you would like to volunteer, visit the volunteer page and see if there's any roles you might like to contribute to!  We want to make sure that we will have enough special edition coins for all of the volunteers, so sign up before May 23rd.
The geocoins will look awesome when you see the real thing! They will be polished nickel with 2d dies, IHE and translucent enamels (which appear solid in this preview) with gritty texture beneath the aurora and text.
The die-cast has been set, and they are ready to go into production as soon as we confirm our numbers after the May 23rd cutoff! Please confirm your orders before then via the registration page.