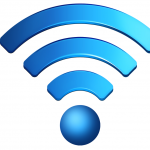 One of the commonly asked questions that are asked is about WiFi Internet access & Cell phone coverage while visiting the Rosthern Area. We have got you covered! As geocachers ourselves, we know this is important, especially for our out-of-country attendees who don't have convenient mobile Internet access.
Access Communications is the local cable TV and Internet Service Provider who has come on board as a sponsor for the Living Skies 2014 MEGA Event by providing free Wi-Fi Internet access at the Rosthern Jubilee Sports Centre (Arena) where the main event will be taking place. This will provide our attendees a central location for fast and convenient access to the Internet for logging caches, updating pocket queries, checking e-mail and whatever else may be needed. It will be installed on Wednesday July 16th, and shut down on Sunday, July 20th.
For those who have reserved through online pre-registration to stay at the Rosthern Junior College dorms, camper trailer parking, or camping, we have confirmed their facility also provides free Wi-Fi Internet access. The residence building has a lot of cinderblock walls, so availability may be spotty in the rooms themselves, but should work well if you come out to the lobby area. And hey, you can socialize with fellow geocachers at the same time ;-). For those camping and in trailers, you are welcome to come to the residence building lobby for your Wi-Fi Internet access.
Mobile Phone Coverage
If you are wondering what your cel coverage will be like while in the area, unless you are with Rogers or Fido, it will be excellent. SaskTel has the leading network in the province. They have been agressively deploying HSPA 4G coverage throughout the province including rural areas, and have expanded to deploying LTE in the more populated areas. Most of the other competitive carriers actually just share the same infrastructure, so coverage from Bell, Telus and their sub-brands (Koodoo/Virgin/Solo etc) will be pretty much the same.
The story is different however, for Rogers Wireless & Fido. Their coverage in Saskatchewan is excellent when in the city limits of Regina or Saskatoon with 2G, 4G HSPA+, and LTE, but as soon as you leave the city they only have 2G (EDGE) coverage along the major highway routes. Rosthern is well covered by this service, but when out caching expect loss of service when in varied terrain and between Rosthern & Prince Albert. For example, the Nisbet forest where the Hiking and Night events will be held will likely have no service, so prepare your pocket queries for offline caching in advance, or tether off of a friend who is with a different carrier.