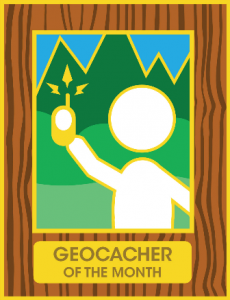 It's official – Groundspeak has announced today on the geocaching blog that out of the three nominees, and the only one from Canada, Saskatchewan's own hurleyanne had received the most votes, and was awarded the coveted title of "Geocacher of the Month for April 2014" !!!
Initially nominated by Delaronde_Hillbillies, the vote comments flowed in from geocachers all over Saskatchewan and beyond to share their stories of why they believed hurleyanne was so deserving of the designation. Thanks to everyone who voted, this is a prestigious award indeed.
Upon learning the news on the Saskatoon Geocachers facebook group, she commented "Thanks everyone for your support! I feel like so much of what was said was more about what we have done as a community than what I have done, so I hope we can all feel some pride in this!"
Go read some of the heartwarming comments written about her on the geocaching blog votes post!
Now she better hold onto that coveted geocoin pretty tight while attending Living Skies 2014!